Inspiration and Preparation For The Journey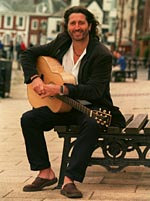 The inspiration comes from Steve Knightley and the blame for any mess is our responsibility, so now you know. This all began when we viewed a three year old two part British television series that Steve Knightley, he of Show of Hands, made, while seeking inspiration for a song or more accurately a tale, for Steve is a storyteller in the true sense of the word, his songs have a time and place about them, and the characters that populate those times and places are very real, indeed, we meet some of those characters in the persons of the folk Steve interviews during the course of his journey through Devon and Cornwall. Now, you may or may not know, that though Steve was born in Swaythling near Southampton, in Hampshire,of a seafaring background, Steve moved to east Devon as a youngster, and it is here that he laid his true musical and personal foundations.
"I consider Devon to be my home and there is still a big clan of Knightleys in the West country", he says. The impressions one gets of him are that he is a Devon man through and through.
Having watched the programme a few times, which you can do, using the link, to the right there, we decided to take our own journey down into the West and Southwest Country of England, we've covered the south of England and The Midlands fairly extensively on some of our other websites, and we decided it was time for a change, time to breathe in the sea air, for after all, part of England's past is of a seafaring nation, and we'll be looking at that and some of the characters who were involved, and the places they visited either as explorers or in the on going wars with various nations, most notably, Spain and France, but in the main we'll be in Devon and Cornwall, with a side trip or two into Somerset......Well there's a wind coming off The English Channel, and the weather, at least for now, is fair, it's time to hoist our packs to our backs and be on our way following paths that travellers, wayfarers and minstrels, such as Steve Knightley, have travelled throughout the history of these islands.
Steve, massive thanks to you are in order, for so much inspiration, through your tales and through a journey you called,
Stairway To Devon.
Let's be off.......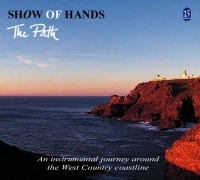 the music you heard as
you entered:
Windchanges
by Show of Hands.
it was this song that
Steve Knightley wrote
as a result of his journey
on A Stairway To Devon
Devon
sorry, we couldn't resist!
seriously though, it's a very
pretty seaside village in Devon,
and this is their website.
great outdoors.
once more from
the BBC
This website is currently hosting
34 participating museums in Devon
North Devon on disk is
a joint project enabling museums
and community groups to
build up an interactive,
computer-based archive of
historical and contemporary
information, based around the
fascinating collections of
Northern Devon's 10
local authority and
independent museums.
For those who weren't around at
the time, or who missed out,
here's a bit of a treat....
In 2000 Steve Knightley had a
two-part tv series on
Carlton WestCountry Television,
in England which
followed him around Devon
as he composed the song
later to become "Wind Changes".
Lots of clips of Steve talking
to local friends and musicians,
and performances by
Show of Hands, Fishermens Friends,
the Joyce Gang amongst others.
there are digital downloads
of the series, which you can
watch on your computer.
a note. you have to be a member
of Longdogs to view the videos
join up, it's free, and join in with
other Show of Hands folks
from our
The Dawning of the Day
website
Cornwall
What is Seek Southwest
All About?
Seek Southwest is a complete
one-stop site for links
to websites to do with the counties
of Devon and Cornwall, Southwest Britain.
With a huge directory of sites
on dozens of subjects relating to
the South West, there's bound to
be a link of interest to you.
images, history, information,
walks and cycle trails